La perspectiva fija que convierte la tierra en paisaje consciente e inconscientemente da forma a la relación entre el ser humano y el medio ambiente. A través de puntos de vista basados en la visión como un sistema de propiedad, los tropos históricos utilizados para representar la tierra han formado lo natural como un telón de fondo servil o sublime que sirve para reforzar las jerarquías construidas socialmente. Dentro de cada vista brillante o romántica, cada representación del hombre parado en un precipicio divino o peligroso, la naturaleza es simultáneamente una forma de conquista, imperialismo aventurero y recurso de capital. En Ambiente humano los artistas exploran complicadas historias de un lugar para deconstruir la supuesta neutralidad de la naturaleza y destacar las fuerzas creadas por el hombre que la median y la alteran.
A través del video, la escultura, la instalación y el mosaico, las piezas seleccionadas señalan la dinámica sociopolítica de la extracción de recursos, a la vez que critican las conexiones que el hombre desde una mirada antropocéntrica ha creado en relación con la tierra, a través de historias de colonialismo y producción capitalista. Algunas piezas se preguntan sobre el paisaje como un dispositivo de encuadre. Esta curaduría aboga por una visión amplia de la naturaleza, una que no permita al espectador evitar la destrucción ambiental a través de lo pintoresco, sino que involucre las posiciones interconectadas entre la naturaleza y la humanidad, y entre el colapso de lo antropocéntrico y su renovación.
The fixed perspective that turns the earth into a conscious and unconscious landscape shapes the relationship between human beings and the environment. Through viewpoints based on vision as a system of ownership, the historical tropes used to represent the land have framed nature as a servile or sublime backdrop that reinforces socially constructed hierarchies. Within each bright or romantic view, each representation of a man standing on a divine or dangerous precipice, nature is simultaneously a form of conquest, adventurous imperialism, and a capital resource. In Human Environment, artists explore complex stories of a place to deconstruct the supposed neutrality of nature and highlight the forces created by humans that mediate and alter it.
Through video, sculpture, installation, and mosaic, the selected pieces point to the sociopolitical dynamics of resource extraction while critiquing the connections that man, from an anthropocentric perspective, has created about the land through stories of colonialism and capitalist production. Some pieces question the landscape as a framing device. This curation advocates for a broad vision of nature, one that does not allow the viewer to avoid environmental destruction through the picturesque, but rather engages with the interconnected positions between nature and humanity, and between the collapse of the anthropocentric and its renewal.
Review by Anna Garner
Frank Vega | Karen Cheirif | Anne Lise Michoud | Alfonso Zárate | Víctor Esquivel
De la serie Das Kapital: Marcas de prestigie
Técnica mixta: Ropa, resina poliéster, piroxilina y plástico
"Scie sauteuse 1 /Sierrra de vaivén"
Vidéo HD, format 9/16, 2min27s
Guayaberas, cera, cascara de huevo, maíz, campanas, canasta de palma, alambre,
círculo de alfiler de costura, pluma de pájaro, borlas de hilo , espejos, estructura
de madera con ganchos de madera naranjas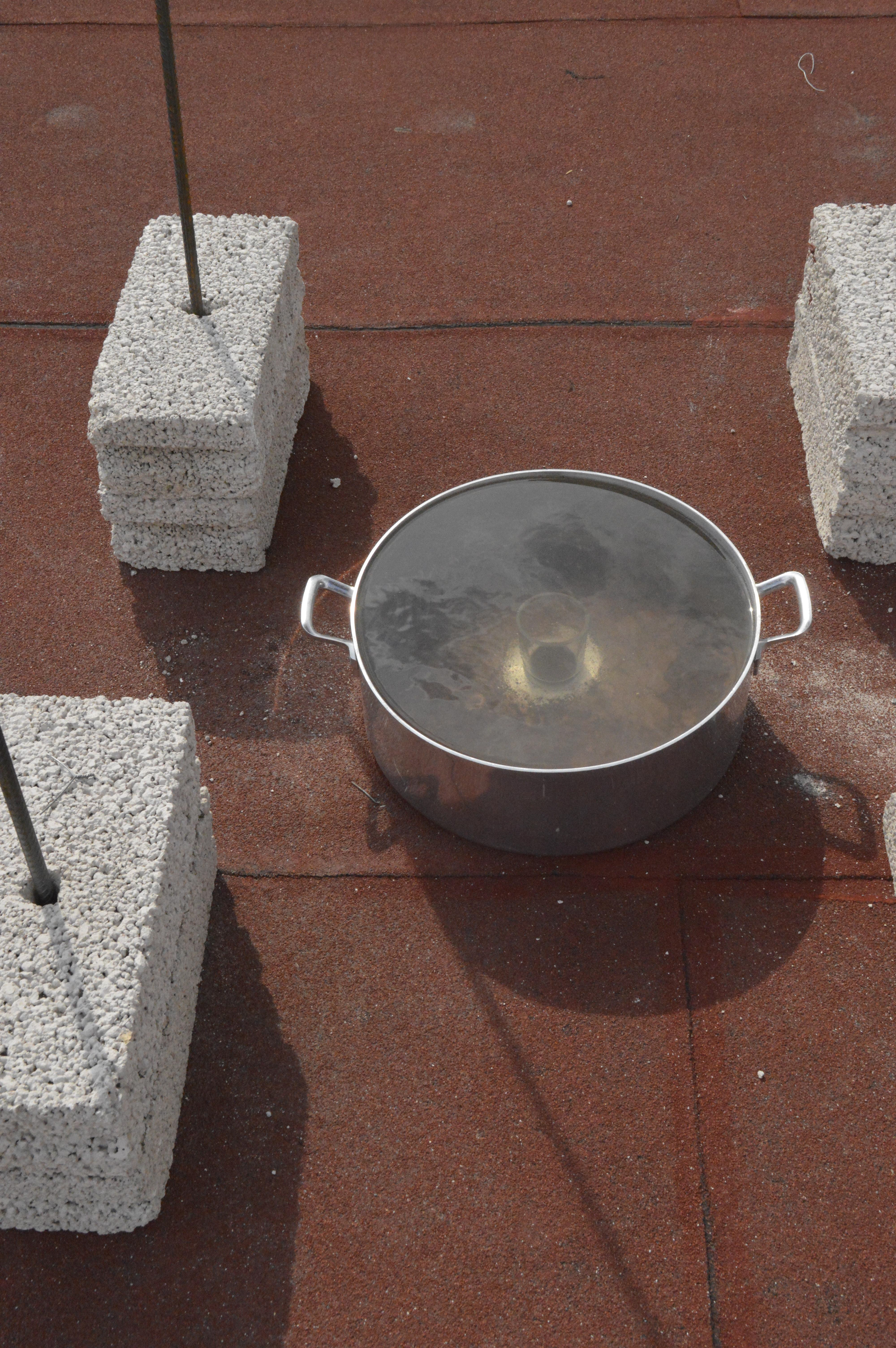 Agua de lluvia ácida, embudo de acero oxidado, materiales de construcción
olla de aluminio y vaso

Técnica mixta Soporte: Cortina de textil de algodón recuperada,
Pigmentos minerales, aglutinante acrílico, lápiz y pastel.